FOR IMMEDIATE RELEASE
California Wine Country Wins Its Second Taste Award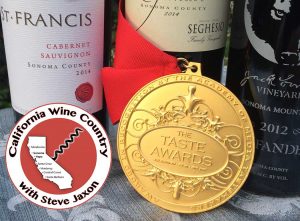 Santa Rosa, CA  --  December 22, 2016  --  We are proud to announce that California Wine Country with Steve Jaxon has been named as the winner of the 8th annual Taste Awards' FERRARA FLAME AWARD FOR BEST CITY OR REGIONAL PROGRAM. The awards ceremony will be held in Hollywood, California, in February 2017.
California Wine Country with Steve Jaxon is a one-hour per week radio show devoted to the business and pleasure of wine. Co-hosted by international wine judge Dan Berger, the show's motto is, "We taste, we laugh, we learn." Visit the California Wine Country page on this site for audio samples and more information.
The show was nominated in the 8th annual Taste Awards, in four categories: Best Critic or Review Series, Best Single Topic Series, Best Radio Broadcast and the Ferrara Flame Award for Best City or Regional Program.
This is the second time that California Wine Country with Steve Jaxon has won at the Taste Awards. The show also won the award for Best Critic or Review Series at the 6th annual Taste Awards, two years ago.
California Wine Country with Steve Jaxon is produced in Santa Rosa, California by Vicario Productions. In addition to California Wine Country, the company also produces Brew Ha Ha with Steve Jaxon, a weekly hour about craft beer, The Drive, a daily variety talk show heard Monday through Friday from 3 to 6 PM on KSRO in Santa Rosa, and The Best of The Drive, a weekly one-hour recap of the most interesting interviews of the previous week.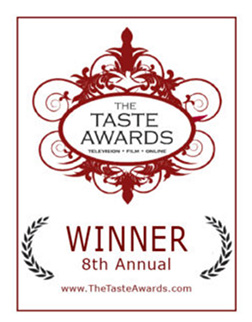 The show's co-host and creator Steve Jaxon said, "It is a great honor for us to be recognized again at the Taste Awards. We are really doing what we love here in the heart of wine country. These are exciting times in the wine business and we are privileged to be in the midst of it."
"The Annual TASTE AWARDS are the original awards for the Lifestyle Entertainment Industry, and the highest awards for creators, producers, hosts, and directors of Lifestyle Programs, Series, Shows & Cinema. Also known as the Tasty Awards, they are the premier broadcast awards show celebrating the year's best achievements in Food, Fashion, Home and Lifestyle programs on Television, in Film, in Online Video, and in Apps, Radio, Podcasts and Photography." (from the Taste Awards website http://www.thetasteawards.com/about/)
For more information visit www.vicarioproductions.com or contact Cathy Ratto, Vicario Productions, cathy.ratto [at] yahoo . com or tel. (707) 480-3539.
###