Tommy Chong returns to The Drive today, to talk about what's new with Chong's Choice and about his attending the International Cannabis Business Conference in San Francisco this weekend. For more information about Tommy Chong and his line of cannabis products Chong's Choice, visit the company's website, http://chongschoice.com/.
---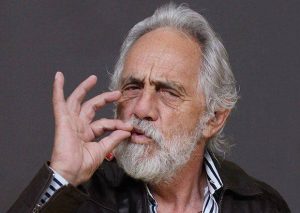 SJ:
All right! He's been with us before, it's a pleasure to have him back. I first met him at a party in the early '70s, in East Lansing, Michigan, where he and Cheech were performing at Michigan State University. And after the show, we all partied at a friend's house, and they were really cool, and they still are! And he's in The City today. He is everybody's cannabis guru, everyone's favorite cannabis guru, the great Tommy Chong is back with us. Tommy, how are you, sir?
Tommy Chong:
Hey, couldn't be better. I'm really happy, happy now that we're legal. I like that.
SJ:
Yep. I don't want to bring anyone down, especially you, but let's just, let me ask you, your thoughts on what's going on in Washington and whether this new administration is going to mess with the states who have legalized marijuana.
TC:
Oh, no, no, they're going to be too busy to explain their Russian connections.
SJ:
Yeah, they've got enough going on and I don't think they're going to be worrying about what we're doing in California.
TC:
Yeah, you know, I like what's going on (in California).
SJ:
Are you living in California? I can't remember.
TC:
Yeah, yeah yeah. Los Angeles.
SJ:
So, this is a big deal and we've been dealing with it up here in the Bay Area, for a long time, and everyone's struggling and rushing to try and figure everything out so we can get it all together and everyone's happy. What are you up to as far as, I know you've got Chong's Choice…
Tommy Chong:
Yeah, Chong's Choice. See, what we've done is we've sort of become a distribution, you know, slash, testing, high end (no pun intended), but high-end pot. You know, the best, the best. Because you know, that's what I got used to, smoking the very best, and, you know, I have my name associated with what's available, you know? From the best growers, and the best indoor and outdoor growers.
And so I've been having a really good time, making sure the quality is up to par.
SJ:
And you check it all out yourself and put your stamp of approval on everything that gets sold.
TC:
Yeah, well, what I do, yeah, I get a little sample and then I try it out. So far, everyone has made the grade. No one has failed yet.
SJ:
And you're also, and I love this, you're doing an exclusive line of edibles, with a chocolate connoisseur, and you're doing, let's see, pre-rolls?
Tommy Chong:
Yeah, well, at least I found out, you know, I went through a cancer thing, in my life, and I found out that chocolate could, especially dark chocolate, is a cancer-fighting agent. And so we wanted to combine the two, you know, because marijuana has been proven to be a good cancer-fighting agent as well. And so now we've combined the two, you see? You get your two cancer-fighting agents all in one with our chocolate edibles.
SJ:
And you're doing pre-rolls, oil cartridges, even THC breath strips, I love that!
TC:
You kind of broke up there, or my week kicked in, I don't know, one or the other.
SJ:
You're selling pre-rolls, oil cartridges and even THC breath strips and I really love that.
Tommy Chong:
Yes. The cartridges for your vaporizer, so you can vape any time, you know, you don't have to, you know, go hide in a closet anywhere. You can just vape, and we sell the cartridges. And the breath strips are sort of a novelty but they come in handy, you know, like if you're a … smelling like a hippie, we've got the breath strips there. Yeah, we've been sort of like trying it all. I had, what do you call it, wipes for your clothing, on tap, for a while, but they weren't going anywhere, so we just went with the breath mints.
SJ:
And you're in the city today at some conference or something?
TC:
Yeah, I'm coming to San Francisco … for a conference.
SJ:
We're having cell phone problems again here
TC:
Ah, OK, can you hear me? Yeah, I'm coming to the big city, to The City, for a conference. We're going to be talking about weed, what else! Everything.
SJ:
Or course. So, what else is going on? I mean, this is obviously keeping you very busy, you've got a lot of different things going on.
TC:
I'm getting ready to go to the Academy Awards, because I was in a movie that got nominated, Zootopia.
SJ:
Oh yeah!
TC:
Yeah, so I play the Yak, so I've been invited to all the Oscar parties, and everything else. So, you know, the gifting suite, which is nice, and so I've been enjoying life. It's nice.
SJ:
Are there going to be Chong's Choice things in the gift bags for the actors?
TC:
I lost you, hello hello?
SJ:
Yeah, we're having cell phone problems, it's a bummer.
TC:
Oh, there you go. I got you, I got you again.
SJ:
I said, are there going to be any Chong's Choice edibles or something, or breath strips, in the actor's gift bags?
TC:
I would love that, but I don't think so. The Academy, I think they're just trying to get used to the fact that I'm going to be there.
SJ:
And how's Cheech doing? Are you guys planning anything in the future together?
TC:
Well, Cheech, you know, he's a little worried about being deported right now, you know, because of Donald Trump, so Cheech is kind of hiding out these days, you know.
SJ:
Well, you were born in Canada, maybe you should be worried too, who knows what they're going to do.
TC:
Oh no, I got, thanks to Ronald Reagan, I was part of the amnesty thing. I got myself American citizenship.
SJ:
Right on.
TC:
And Cheech has too, but you know, he gave up his American thing when he went to Canada during the Vietnam War, you know? And so, it won't be a problem, but you know, he gets worried about little things like that, you know, like going to jail.
SJ:
Well, I'm so glad you're healthy and doing good and what's the website for Chong's Choice?
TC:
You know, I wish I knew! In fact, I think that will be a good meme, for a thing, "I wish I knew!" I don't even remember my own password. So you just gotta, oh no, I don't think we even got the Chong's Choice website back yet, 'cuz we had to divest ourselves from the guys that had it and we were going through some legal things. (NOTE: the website does work now, http://chongschoice.com/)
But you can, you know, just go into any good pot store and ask for Chong's Choice and there will be a picture of me and as long as there is a picture of me on there, that gets you stoned, just looking at me.
SJ:
Tommy Chong will be in San Francisco tomorrow and Friday, the International Cannabis Business Conference.
TC:
That's what it is.
SJ:
And he'll be debuting some of his new products from Chong's Choice. Tommy, it's always a pleasure, my friend, and again, I'm glad you're healthy and doing great and I hope we can talk again.
TC:
OK, we'll do that. Take care, bro, bye bye.
SJ:
OK, you too, man.
---