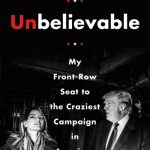 Katy Tur spoke with Steve Jaxon today about her new book, Unbelievable: My Front Row Seat to the Craziest Election in American History" which is on sale now. Katy Tur covered the Trump campaign for MSNBC in what was supposed to be a short-term assignment. We all know how that went.
Steve introduces Katy Tur, who won the 2017 Walter Cronkite Award for Excellence in Journalism. He asks her to tell how she first got the assignment and she tells how she had just moved to London to cover international affairs, "everything but American politics." She was in New York with the Make A Wish Foundation and she just happened to be in the newsroom one day when she was asked to cover the Trump campaign for what was supposed to be at the most a six week term.
Steve asked when she first thought that the campaign might not fizzle out as many people had predicted. She says that she noticed that he was getting so much attention early on, she started to wonder whether "Washington establishment knew what he was on to.
She had to ask herself if she could trust what she was seeing with her own eyes and it turned out not to be a fluke. This is despite the many outrageous things he would say. The most surreal email she has ever received in her entire life has to do with the emergence of the Access Hollywood tape. She tells of being brought into a room to see the tape and her bosses at NBC asked her to get a comment from the campaign. She repeated verbatim the quotes, in the email she wrote to the campaign. She never got a comment. But the candidate would single her out in front of crowds, whether he was happy with her reporting or not. This began when she was the only national reporter covering him. And he made her a part of the story, which is something that made her uncomfortable. Even when the Secret Service had to walk her to her car, she had to bear down and keep going. She did take a day or two to make sure she didn't want to go to Washington and cover the president.
Steve asks her about "the meat press conference" when the candidate appeared with his steak products and other items. He dragged teh press corps around to his properties in a thinly-veiled attempt to attract attention to his steaks, water, wine, magazine, etc. This was just after Mitt Romney slammed Trump at an event in Utah, calling him a fraud and a fake. They weren't even Trump steaks, those are no longer for sale. The Trump water is just water anyone can buy on line and have it labeled with any name. Even the magazine was syndicated content. The wine company says it is entirely owned by his son. So even if the reporters quickly debunked the entire press conference, he went on as if the reporters hadn't already debunked them.