Barry Zito won the Cy Young Award and a World Series while pitching in Major League Baseball for the San Francisco Giants and the Oakland A's. Now that his baseball career is over he has taken up music, writing songs, singing and playing the guitar. He grew up in a musical home; his father was a composer and arranger who worked for Nat King Cole in the early '60s and his mother was also a musician and professional singer. We hear some of his music as he told his musical story to Steve Jaxon on The Drive, last Monday, Jan. 30.

For everything about Barry Zito's music and access to his social media pages, visit his website, https://www.barryzitomusic.com/.
---
(For about the first minute, we hear part of a song from Barry Zito's new debut EP "No Secrets.")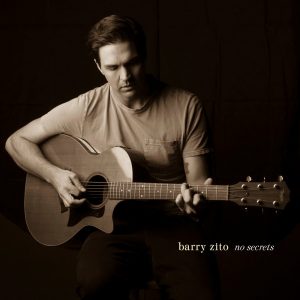 Steve Jaxon:
Wow, nice stuff! That is music from our first guest this afternoon, one of my favorite Bay Area ball players of all time, for many reasons, many different reasons. He's a former A's and Giants pitcher, World Series champion, Cy Young winner, and now his new debut EP is out, called "No Secrets." Mr. Barry Zito is with us. Barry, how are you, man?
Barry Zito:
I'm doing great, how are you doing?
SJ:
Congrats on the EP, that's very cool.
BZ:
Awesome, thanks so much. Yeah, it's been a fun ride.
SJ:
So, you moved to Nashville, I understand.
Barry Zito:
I did, yeah, I moved to Nashville after I finished up with the A's and was playing with the Sounds (Nashville's minor league baseball team) and we just stayed there. My wife's family is from Missouri out there, which is close, and I started co-writing and spoke to somebody at ASCAP, Robert Filhart, and he helped me, you know, start writing and co-writing tunes and kind of start cutting my teeth, treating me like somebody green, so, which is what I was. So it's been a fun ride.
SJ:
Very cool, man. And, have you put a band together? Are you planning on any touring or what?
Barry Zito:
No, it's just going to be just solo, just more songwriting. I like the family life at home in Nashville and, you know, every now and then I'll pop in and play some shows here and there, but for me, writing and staying around the family is important. But it was a lot of fun to play Sweetwater the other night in Marin, obviously, a beautiful venue. So I'll miss it up there. I've got to get back to Napa too.
SJ:
Yeah, man. It's very cool. You know, I do a syndicated radio show for about fourteen years now, it's called Swingin' with Sinatra, and I've mentioned your father Joe a few times, because he did some stuff with not only Frank but he was conductor and arranger for Nat King Cole!
BZ:
That's right, that's so cool that you talked about him. Yeah, he as always doing that, arrangement stuff and the jazz and piano. And then when I was growing up, he was a talent manager and then we went on to San Diego and that was why he was in the back yard with me playing ball, because there wasn't much of an entertainment industry in San Diego. So I reaped the benefits from that. But, um, yeah, he definitely gave us a good background and a good ear for music too.
SJ:
I can imagine, man! So now, in Nashville, you're going to be recording any more soon? Or are you just woodsheding, writing, stuff like that?
BZ:
Yeah, I think just writing, you know, demo-ing out songs, you know and start getting to a point where we're going to start pitching them, and that whole – all that stuff. So it's jus been a lot of fun. But I definitely want to get out on the west coast and start playing a little bit more. Tim Flannery told me for years about how cool it was to play out on stage and stuff, but I never imagined it would be so nerve-wracking. But it was super fun, too.
SJ:
Yeah, he's got his own band and plays around.
BZ:
Yeah, he makes his way through there quite often, too. I know you guys have got BOTTLEROCK coming up too, right?
SJ:
Yup, coming up in May, I think he played last year, too. He plays a lot around here. Good man, he's been on the show before too.
BZ:
That's awesome.
SJ:
So, I don't know, talking about your pitching career, I mean a World Series champ, Cy Young winner, one of the most popular ball players in the Bay Area, for many many years, you're my producer Mike's favorite Giant of all time.
BZ:
Aw, that's awesome.
SJ:
So, I guess you officially retired when the A's were playing the Giants, you were with the A's for a short time, and so you got to retire in front of both Bay Area teams that you played for.
BZ:
I did. That was just a magical moment, to be able to come back to the Bay and obviously to be in the green and gold again, and enjoying the Colisseum and all of the energy that's over there. So it was definitely unexpected. I was retired for a week and a half, at that point and got a phone call, so it was quite shocking. But, what a stroke of luck, you know?
SJ:
And this project, "No Secrets," is it your first official time in the studio recording your stuff?
BZ:
No, I did an EP actually, back in 2011, but it was not the right time to release it, so no one ever heard it. (I was) still playing baseball, and unless I'm going 23-10 ("twenty-three and ten") or something, I probably don't want to release original music. It's like the Bull Durham quote, right, with the shower shoes and the fungus.
SJ:
Yeah, exactly. Let's hear another track from Barry's EP called No Secrets. Barry Zito on The Drive. (Plays a part of the song "The Hearts I Didn't Break" from the EP.)
SJ:
That is Barry Zito, the EP is called "No Secrets." Are you going to release a single?
BZ:
Yeah, we have a little video out on the website, you know, and obviously it's not on a label project, so we just put this video out, Secret of Life, which is kind of the story of me learning life's lessons in baseball. So I thought that was fitting. But yeah, it's just kind of a songwriter independent project, but I appreciate you playing some of the tracks, man.
SJ:
Sounds great, dude
BZ:
It's a pleasure to talk to you guys, man.
SJ:
You've got, obviousy, some, well, Nashville is just full of amazing players, and I just love the production. Did you produce it, co-produce it?
Barry Zito:
You know, Justin Tocket produced it and, you know, we would talk about certain kind of things but I think he had his arrangements in his head and it just, I just thought it was cool. Like, acoustic (guitar) and another stringed instrument, you know, and kind of, every track has a different stringed instrument on it, and then, just this amazing percussionist Ken Lewis. So, it was super fun to watch those guys do their thing, like you said.
SJ:
Yeah, amazing players in Nashville. Well, way to go, dude. We're all proud of you and stay in touch and let us know when you're coming back to the Bay Area and folks, go to barryzitomusic.com to find out all about it. barryzitomusic.com Barry, I appreciate you taking the time. Let's talk again.
BZ:
Absolutely, thanks so much, man. You guys have a good night.
SJ:
All right. He could have some hits there. I was in Country radio for a while. It sounds good. Let's go into the break with a little bit more of Barry Zito's EP just out. Again, barryzitomusic.com, the EP is called "No Secrets." (Song plays for another minute or so.)